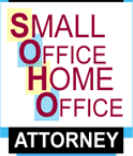 Ideas
A SOHO Day
Is it for You?

New Products


Word Processing
SOHO lawyers have three choices here: Word, WordPerfect, or both. Word processing software is not easy to master, so stick to the one you know.
WordPerfect: Always the clear choice for lawyers. In fact, WordPerfect just beat Word in a PCComputing survey.
You can get WordPerfect alone, or as part of the WordPerfect suite. The suite includes a spreadsheet, an imitation of PowerPoint, and other useless stuff. You don't need it.
If you can find it, look at WordPerfect Law Office 2000. Corel has discontinued it, so it's not easy to find. If you don't have practice management software, you can save a ton on the legal suite. Here's what you get:
The Corel WordPerfect Suite. WordPerfect 9, Quattro Pro, and all the rest.

Amicus Attorney IV Organizer edition. The simple, but powerful version of Amicus. Amicus is one of those programs which can change your life if you have never used practice management software. See Management for details.

HotDocs 5.1. Document management software. I've never used this, but those who have rave about it.

Lexicon, Black's legal dictionary and spell checker. Never misspell subpoena again.

Deal Proof SE. Document Analysis software. I don't know what it does. Feel free to send in a review, and we will post it here.

WestCiteLink 2.2. Quickly finds and marks legal citations within a WordPerfect 9 document, and automatically generates Tables of Authorities. With this latest version, you can also search for citations within footnotes and endnotes.

Nexlaw 9. Supplements your WordPerfect 9 menus and toolbars with legal-specific tools that make creating, filing, printing and faxing documents a breeze, according to the press. I stupidly bought Amicus and WordPerfect separately, so don't have all this cool stuff.
See full details at Corel's website. Click WordPerfect Law Office 2000.
For a detailed review of Law Office 2000, click here.
Microsoft Word, Microsoft Office: Word is very popular, so you will receive documents over the internet in that format. Lawyers and clients will request you to send in Word. If you use WordPerfect, this creates a minor, but annoying problem. Both programs have conversion utilities, but it is easier to simply have both on your computer.
Word is part of the Microsoft Office 2000 suite. In its Premium version, Office includes Word, Excel, PowerPoint, Publisher, Front Page, PhotoDraw, Outlook and others. Excel, like Word is so ubiquitous that most spreadsheet data you receive is in Excel format. PowerPoint is the standard for presentations, and FrontPage is the leading website creation and editing tool. Click below to check Amazon's pricing.
Watch out for pirated Microsoft software. It is for sale all over the net, and can be dangerous. Buy software from a vendor you can trust.