Equipment
Everyone asks about equipment. What do I need? Where should I get it?
This section of soholawoffice answers those questions. Most of the recommendations here are based on what I use, or know. This stuff works for me.
The good news? Great new hardware is inexpensive, dependable, and easy to use. I used my $400 printer for three years, with no breakdowns. If I hadn't done something incredibly stupid, I would still be using it. (Please don't ask).
My $600 copy machine has performed flawlessly since April, 1999. No maintenance. No repairs. Bought a few toner cartridges, and another doodad called a drum, or something like that. I suppose I should take it in for a look, but think I'll just wait and see how long it goes.
Copier update -- March 24, 2001. Copier making squeaky noises. Should I take it in, or see how far this horse will run? Copies still flawless.

Update 2 -- September 25, 2001. Quit squeaking, still running strong.

Update 3 -- February 3, 2002. Squeaked, then quit squeaking again. Still no repairs. It's become a matter of principle.

Update 4 -- December 12, 2002. Still spitting out those good looking copies. No repairs yet. This is unbelievable. It will be four years old in April. Think I'll bake it a cake.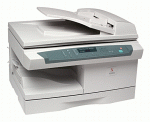 Here's the latest version of this great machine, the Sharp AL-1551 Laser Copier/Printer. This series is sold by both Sharp and IBM.
It also doubles as a laser printer. This has saved my bacon a few times, and it really speeds up production to have this baby printing long stuff, while I print shorter docs on my inkjet.
You will spend between $3000 and $5000 to set up a home law office with first class equipment and key software. Here's how.
Just click the links below for my recommendations.
Computers Peripherals Phones Scanners New Products
Try the search box below if you are looking for something specific.
Just type in a word and click search or hit your enter key.