PERIPHERALS for SOHO LAWYERS
Once you have your computer picked out, you still need peripherals. Expect to spend between $1,000 and $2,000 to get set up with a printer, copier, fax machine and scanner. That's right, you don't need a thousand dollar fax machine or a $7,500 copier. New peripherals are cheap, dependable, and create beautiful output.
People are always asking me what I use, and where I get them. Here are my favorites. They're fun and tax deductible.

Printers: Add a little color to your correspondence? Here's my printer, the Hewlett Packard 970 DeskJet. It prints beautifully in color or black and white, and handles envelopes, business cards, and labels. Prints near photo quality 8x10 photos for exhibits or

transparencies. Prints on both sides of the page, which works great for depositions and other working copies. I'm betting it is rock solid dependable; my last printer was a similar HP which worked flawlessly for three years.

This printer is a Consumer Reports top pick.

Finally, the HP970 has both USB and parallel port connections. This can be a real advantage, as you will see below.

The HP970 retails for less than $300.

You can get a fine laser printer for the same price, but why not use some color? The text output is laser quality, and this printer is quiet and fast. I love mine.

Here's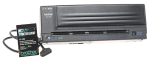 the latest in portable printers . The new Brother MP21c weighs about 2 pounds and uses power from your laptop, through the PC Card connection. No more dragging around a second power brick and cord. Take it anywhere. Take it to court! The usual portable printers require a separate power cord, along with one of those heavy bricks. They just aren't portable enough to be useful. I want one of these. About $275.
Copy Machine: During the last few weeks at my old firm, it seems the copier was constantly under repair. Every time I walked by the copy room, some expensive character had it apart. It doesn't have to be like that.
My Xerox digital copier is nothing like the $7,500 monster at the firm. It fits on my desk. Not one failure, repair, or maintenance call in three years! It's digital, so no platen moves back and forth,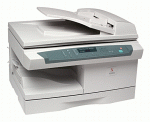 breaking down when you need it most. This machine is the best investment I ever made.
It doubles as a 600 dpi laser printer, and costs less than $600. Click Sharp Copier to check out the latest version of my copier. It's now a Sharp.
These two work together beautifully. I have the copier attached to my computer via the parallel port. The HP970 uses the USB connection. I can use either the printer or the copier to print a document, so I have either an inkjet or laser printer on line at all times. PC Magazine has awarded A-list status to this copier's little brother for months.
Watch out for the inkjet desktop copiers. The ink cartridges are obscenely expensive.
OK, so you've spent about $1,000 and you have a printer and copier. You still need phones, a scanner, and a fax machine. Click phones to continue.